The pandemic has emphasized the importance of digital transformation, stimulating demand for IT-solutions. Many companies do not have the in-house knowledge and skills to develop these tools so they decide to contract outsourcing services.
Businesses are starting to realize that IT outsourcing can make them more flexible and stronger in difficult times. This is, of course, only the case if outsourcing is done properly. In a survey among British companies not currently using ITO, 37% said they would consider outsourcing IT and development as a result of COVID-19. Remote working is blurring the distinction between in-house, near shore and offshore teams.
Increased digital transformation requires software solutions
The new circumstances and challenges caused by COVID-19 have created opportunities for software development services.
Businesses that are increasing their digital transformation efforts will provide the most opportunities for developers. Companies are moving into the cloud quicker and need tailor-made solutions to do so. As working from home is becoming widely accepted, staff needs remote access to their files and programmers. Retailers need web shops and apps now that their customers have become used to online shopping. Agricultural companies need apps to make their supply chain transparent and communicate with their farmers. And these are only a few examples.
Previously considered essential, the pandemic has effectively forced firms to outsource their trading desks to remote working setups and the effectiveness of this process has disproved the requirement for proximity, in turn, easing the path to third-party outsourcing. Many investment managers are actively considering outsourcing to a hyper-scale, expert provider as a potential, cost efficient solution – one that maintains service quality and, hopefully, improves it whilst adding resiliency.
Let's take a look to the future!
What do you think will be the future trends in entrepreneurship after the Coronavirus pandemic?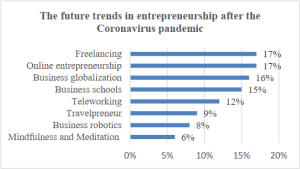 We find that freelancing is in first place with 17%. This means that more and more entrepreneurs are and will continue to turn to outsourcing, as they reduce their staff costs, collaborate only on the project side and have a wide range of options in choosing the most qualified employee for the project on which interests him. The most open sector to the outsourcing market is IT, but it is necessary for other areas to turn their attention to this area. In this way, openness to innovative ideas and accelerated development of the organization are encouraged.
Why choosing Outsourcing services is a good decision?
Outsourcing is not mandatory, but it helps organizations focus on core business and management efficiency. On the same level as freelancing, online entrepreneurship is also at 17%. Thus, online business development courses, investments in video (Youtube), Stories, Live, VivaVideo or Videoshop have started to appear by creating videos directly from the mobile phone. Also, with the Coronavirus pandemic, many businesses have been forced to relocate online in order to survive. While other businesses already operating online have seen real increases in sales during the pandemic.
What do you think about this article?